DogWatch of Upstate New York
It's all about your dog!
DogWatch® of Upstate NY is owned and operated by husband and wife team: Bob and Aileen Howard. We have a combined experience of 30 years in the pet containment industry. We service and sell in 12 counties in Central New York, up to the Canadian border.  The consultation is free and we offer 12 month 0% interest free financing.

Pet safety is our passion. We do this for the love of the animals. Aileen grew up on a dairy farm and Bob has always had pets and wanted a way to work with them.

We are extremely excited about informing you of the DogWatch options. We were dealers for another brand and the options with DogWatch blow away the competition. Our equipment has life time warranties and besides being very affordable you have the choice of having the industry's longest battery of 2 years.

Thank you for giving us the opportunity and we look forward to building a relationship with you and your pets.

We are "Simply the Best...No Getting Around it™"
Service Area
We provide services to customers in Upstate New York and all the way to the Canadian Border, including the towns and cities of Canton, Clinton, Cobleskill, Cooperstown, Delhi, Fort Johnson Gloversville, Herkimer, Holland Patent, Lowville, Malone, New Hartford, Norwich, Oneonta, Rome, Speculater, Utica, Vernon, Walton, and Whitesboro, New York and the surrounding area.
Get a Free In-Yard Estimate!
Our representatives will meet you at your home for a free in-yard estimate. We will help assess your needs and customize a solution that suits both you and your pet. Call today or schedule an appointment to get things started!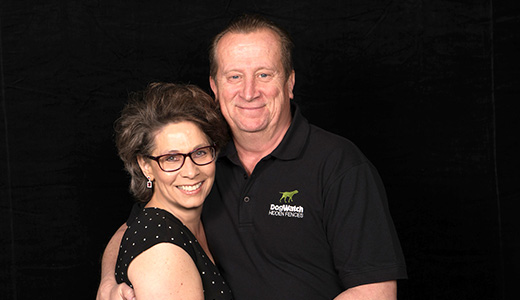 Why Choose DogWatch of Upstate New York?
1. Our number one concern is the safety and well-being of your pet. We provide the support you need to ensure successful training and happy containment.
2. We provide a proven PetFriendly™ training program. We train your dog (or cat) to recognize the boundary flags and the audible warning signal (or vibration) before introducing the correction.
3. We are experienced professionals committed to providing excellent customer service and support. We strive to service every customer promptly and courteously.
We want to hear about your experience! Write us a review on Google+
Simply the best. No getting around it.™
Another reason to choose DogWatch of Upstate New York is that we are an authorized DogWatch dealership. The DogWatch Hidden Fence is the most technologically advanced and the easiest to use, and it is backed up by a no-hassle Lifetime Warranty from a company with more than 25 years of keeping pets happy and safe.

What makes us Simply The Best?
---
Customer Testimonial
Our family has used DogWatch for about 8 years. We've recommended the Hidden Fence to many of our friends and relatives, even back in Syracuse. DogWatch is the way to go. We'll be calling about a wiring at our Truckee home soon, now that we know DogWatch is there, too.
Chris R.