What People Are Saying About DogWatch of Upstate NY
Andy and Monique-Rouleau Cox
Bob and Aileen Howard recently installed hidden fence on our property in Massena, NY, and provided our dog Lucky with the necessary training. The results have been amazing. Lucky is a very energetic, and headstrong puppy and somehow they managed to train him in a very short amount of time...You are definitely a five star business (if 5 star is the highest).
We want to hear from you! Write us a review on Google+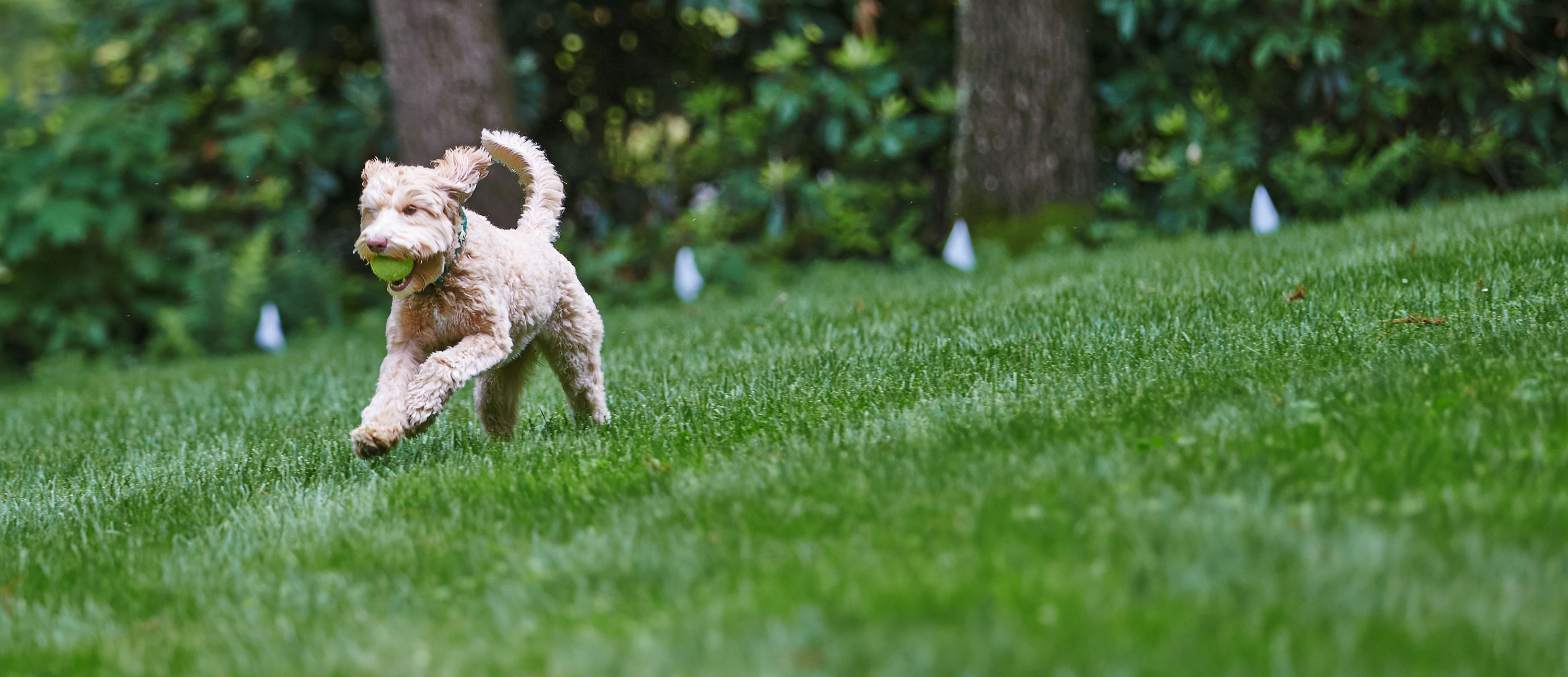 Vickie Beberick
Aileen & Bob Howard are the absolute best in the business. Their product is AMAZING and our 2 dogs took to the experience without a hitch. For all of the Pet Parents out there the best way to keep your pet safe is with a containment area from DogWatch of Upstate NY. I now sleep better knowing that Aileen & Bob have done an excellent job of training the Pet Parents as well as our pet children. Reasonable affordable rates with professional installation inside & out. Best decision you will ever make for your pet!!!!!!!!
Shiloh Chickerell
I can't say enough wonderful things about Aileen, Bob and DogWatch.
We have a young bloodhound. Bloodhounds are known for running & taking off. They are notorious for being bad and running through invisible fences with their collars on.
Our dog Cleatus wouldn't stay home and was jumping his chain link fence and when I was desperate and tried a chain for a day, he snapped that too. He was hit by a car that day and luckily for him and us wasn't seriously injured.
Not only did Bob & Aileen come up and flag and install the fence in bitter cold, they came up when it was freezing cold or when there was 10" of snow on the ground.
When we explained that we were having trouble with the training because Cleatus was running straight through the fence, they worked harder with us and with Cleatus.
They didn't give up when the final training day was over, they offered more of their time if it was needed. They were with us every step of the way and it has changed our lives for the best!! Great company, great products, great people!!!!
Jeremy Robinson
We have worked with Bob and Aileen since 2000 and they have been awesome! We just replaced our Invisible Fence® with DogWatch system and love it even more. Easy to change settings. Also our new BigLeash is working great for our Bulldog. I recommend Bob and Aileen to everyone I know who has a dog. Best investment you can make for your pets!!
Christopher and Linda Reynolds
Can't say enough about how much relief and peace of mind Aileen and Bob provided us for our two young dogs (Kiki & Maxx). They took the time to explain the process and equipment, which is super easy to pick up on. We are completely satisfied with the product and service.
It's immediately apparent that Aileen and Bob love your dogs as much as you do. I would not hesitate to refer them to anyone.
Thanks guys you're awesome!!!
Laura Moore
There is no better thing then letting your dogs out on a cold rainy morning and staying inside with a cup of coffee! I have 3 dogs with some serious impulse control problems at times. They stay put now! I can not thank Aileen and Bob enough for their help and expertise with my dogs. It is beautiful to watch them run full speed through the back lot and enjoy their freedom.
Jennifer Bresee
DogWatch, Aileen & Bob are amazing. Genuine care of the safety of your fur-babies is their top priority and it shows!! We are so thankful that we found DogWatch, it was the best decision we have made for our 7 month old Zoey, she's an Australian Shepherd/Border Collie mix. From the very first call, meeting with Aileen for an estimate, to meeting Bob for installation, the trainings and everything in between these guys have been a one of a kind, enjoyable and outstanding customer service experience. Zoey graduated with flying colors yesterday (5/9/16) and we can't tell you enough how amazing it is to watch her run and play safely in her 1 acre yard. DogWatch has been a Godsend and because of them we get to enjoy many years of watching Zoey have the freedom every pup deserves!!! Thank you Aileen, Bob & DogWatch you guys rock!!!
Erica Basile
The only regret is that we did not go with Aileen & Bob from the very start!! The transition from Invisible Fence® to DogWatch was seamless and stress free. I would absolutely recommended them to anyone in a heartbeat! I'm excited to continue to work with them in the future! Great people!
Robert Braunlich
Aileen is very knowledgable, professional, and accessible. I highly recommend DogWatch for your confinement fence and training needs.
Lisa & Doug Lopesz
The owners really love dogs. They work closely with families and their pets to teach and train so there can be a safe area dogs can play!
Grace Saxe
Couldn't be happier with the service we got. You can't go wrong with this company very professional and took there time with the training. Thanks!!
Georgette Miller
This is an amazing company they worked with the price for me plus bob gave a lot of info explained step by step I'm excited about the fence !
Kylee Gibson
The SideWalker is amazing! So much more enjoyable to walk Saint now. Even my grandfather can walk him now.
Tina David
These guys are great. My one lab Gunner graduated today. Shady still need more training and they were happy to help. I can't say enough about DogWatch of Upstate and their products. I am so happy my guys are safe. Thanks so much!
Dawn Marchefka Miller
Bob and Aileen are the best in this business! Their compassion, patience and outstanding training skills made this experience so rewarding for both of my dogs. I can't thank them enough for everything they have done. Madison and Katie love their new found freedom and are having a blast running all over the yard. Thank you both for making my fur babies two very happy dogs. We are looking forward to adding another system to our camp this spring!
Mike Tillson
This dog watch fence is the best thing we ever spent money thank you 2 soo much captain loves chasing his geese every morning
Dawn Davis
Bob and Aileen are the very best! Miss Emma has learned so much (as have we!) and the fence and now the trainer have freed all of us and given us a happier life to which we owe Bob and Aileen - would not have been possible without these tools! Ty for doing what u do!
Chrissy Rummler-Gottbehut
I just want to say I was a bit skeptical only because our dog has been able to run free for a long time. He is a 4 year old Lab and is very hyper and loves to wander. Aileen helped us train him and I gotta say I'm amazed! Our dog has listened and took well to all the trainings, he stays in the yard now and will not go past the flags!! If you have a dog that doesnt want to stay in your yard I highly recommend you call her!! So happy Thanks again Aileen and Bob!!
Madeline Hill
I want to thank dog watch......This has been a godsend for my dogs.....Bubba is doing great....He never gets out and he loves to run.......He was our problem dog since we got him....But since we put the fence up with Dog watch help we never had a problem.
James H.
Dogwatch changed our lives!!! Before it, our constantly hungry golden retriever would ransack our kitchen and the kid's could never eat on the dining table in peace. With the Dogwatch system, the kitchen has been off limits and the kid's are no longer attacked at the dining room table. And, as a side benefit, we can also let them out of the front yard and feel comfortable that they won't run to the street as we have a unit installed out there as well. We highly recommend this.....it works!!!
Lisa M.
We've been clients of Bob and Aileen for 18 years. They are fantastic! Honest, friendly, helpful and professional.
I just made the switch over from Invisible Fence®. I look forward to having our new DogWatch system for many years. Thank you.
Sharon M.
Always have prompt, courteous responses if calling after hours.  Love the products.  Bob and Aileen, keep up the good work.
Mary B.
Bob is a professional, people person. He did an excellent job explaining everything about the collars and the transmitter. Also gave me the opportunity to ask about any concerns I had. He left his number for me to call if I had anything else that I needed. I did call and he was able to answer my questions. He is an asset to the DogWatch Company.
I am very happy with the DogWatch system. The dogs no longer head for the busy road and really seem happier because I no longer need to remind them to stay in the yard. The deer in the back yard seem to know that the dogs can only go so far and are getting more daring everyday. It is nice to be able to let the dogs out and not have to spend so much of the time out in the cold or going from one door to the other so I can see them. In conclusion....The fence is great to have. I am truly enjoying less worry, and less time out in the cold.
Giselle G.
DogWatch has made a huge difference in our lives. One of our two dogs was an expert escape artist. This dog would get out of our fenced property daily, by tunneling, jumping and actively looking for places to escape. Several friends highly recommended Dogwatch and spoke of the excellent customer service. Both of our dogs are very different and needed slightly different approaches for training. One is high energy and repeatedly tested the Hidden Fence. The other is a timid rescue dog and needed to be handled with care. The customer service provided was impressive and they identified what each dog needed to ensure successful training. They went above and beyond for us, with prompt phone support and a second dog training session. We would definitely recommend Dogwatch!
Jennifer & Randy
Dogwatch has changed our Zoey's (Australian Shepherd/Border Collie mix) life, and ours! From the very first phone call, instal, trainings and everything in between, Aileen & Bob are amazing! To have a company that genuinely cares about the safety & wellbeing of your pets is irreplaceable and one of a kind service! We love watching Zoey run and play around her 1 acre yard freely, safely and without any worry about her getting hurt. This has given our family the peace of mind and 100% satisfaction of knowing she is safe and that we have a company that cares about that as well. Thank you so much, we are so thankful we found Dogwatch, Aileen & Bob!!
Julie J.
We had a hidden fence system installed 2 yrs ago on our 1/2 acre lot to keep our two Aussies from injuring themselves running in and out of our concrete V-ditch. It worked wonderfully, and we had the added benefit of keeping the dogs out of the plant beds and my flowers returned! I can't say enough about DogWatch's customer service.
Tell Us Your DogWatch Story!
We'd love to hear from you, too! Please consider filling out our customer feedback survey to tell us about your experience with DogWatch.